Yondale Stumpies can be found throughout Australia competing in the Show Ring, Herding Trials, working on properties, and just being someone's Best Mate.

Puppies are sometimes available from Yondale Kennels, and we welcome and will answer any queries in relation to current, upcoming or planned litters, or mature Stumpies available.

All breeding stock here at Yondale Kennels is DNA profiled with GTG, has been colour genotyped through GenTest-Australia, has been hip scored by Dr. R.S. Wyburn, and has been BAER tested for deafness by Ms. Sue Sommerlad of the University of Queensland.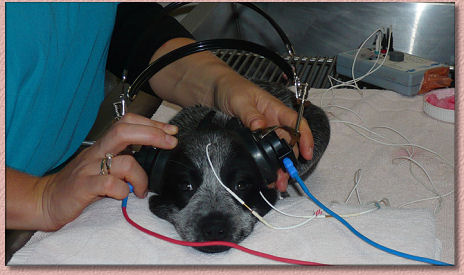 A Puppy being BAER tested
Any puppy purchased from Yondale Kennels:
will have been regularly wormed, socialized, & vet checked at 6 weeks of age;

will have received its first needles;

will be Clear by Parentage of prcd-PRA;

will be BAER tested for deafness with full hearing; and

will be a healthy happy puppy.
More than this, can neither be done, nor will be guaranteed. The balance and duration of the puppy's life from hereon in will be cultivated from on-going care and attention from the future puppy's owner/s, its' genetic makeup, and good old Mother Nature!
We have preference for companion/working homes for our puppies, and these Stumpies are able to be registered on the Limited Register with the Canine Control Council (Qld).
Bronte Harris
April 2008